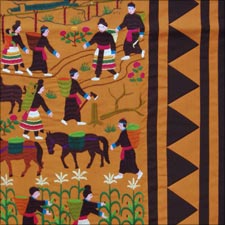 Lifescenes depict everyday life in Hmong and Lao villages. They reflect a culture that relies heavily on oral tradition to tell the story of its people and that values passing down traditions and history to the next generation.
Lifescene producers are proud to show others their way of life. Each lifescene portrait is unique and shows the artist's individuality and life experiences. Artists stitch scenes such as typical village homes, feeding animals, and planting and harvesting rice.
CAMACrafts offers three styles of lifescenes: Hmong, Lao, and Animal. The Hmong and Lao styles show typical village life and illustrate popular folk tales. The Animal style depicts various animals that are common across Laos.
All cross-stitch and embroidered lifescenes are sewn with colorfast, washable materials. To increase the longevity of the embroidery, we recommend handwashing each article. Do not wring or tumble dry. Lay flat to air dry so that the shape is not distorted. If the cloth is wrinkled after drying, iron on the wrong side of the fabric.